Tex Wheeler Studio Gallery
Home Is Where The Art Is
Art and Antiques Combine With Colors and Corners in Northern New Mexico

By Kate Winslow, Cowboys and Indians, May 2001 • Photographs by Daniel Nadelbach, 2021 - 2022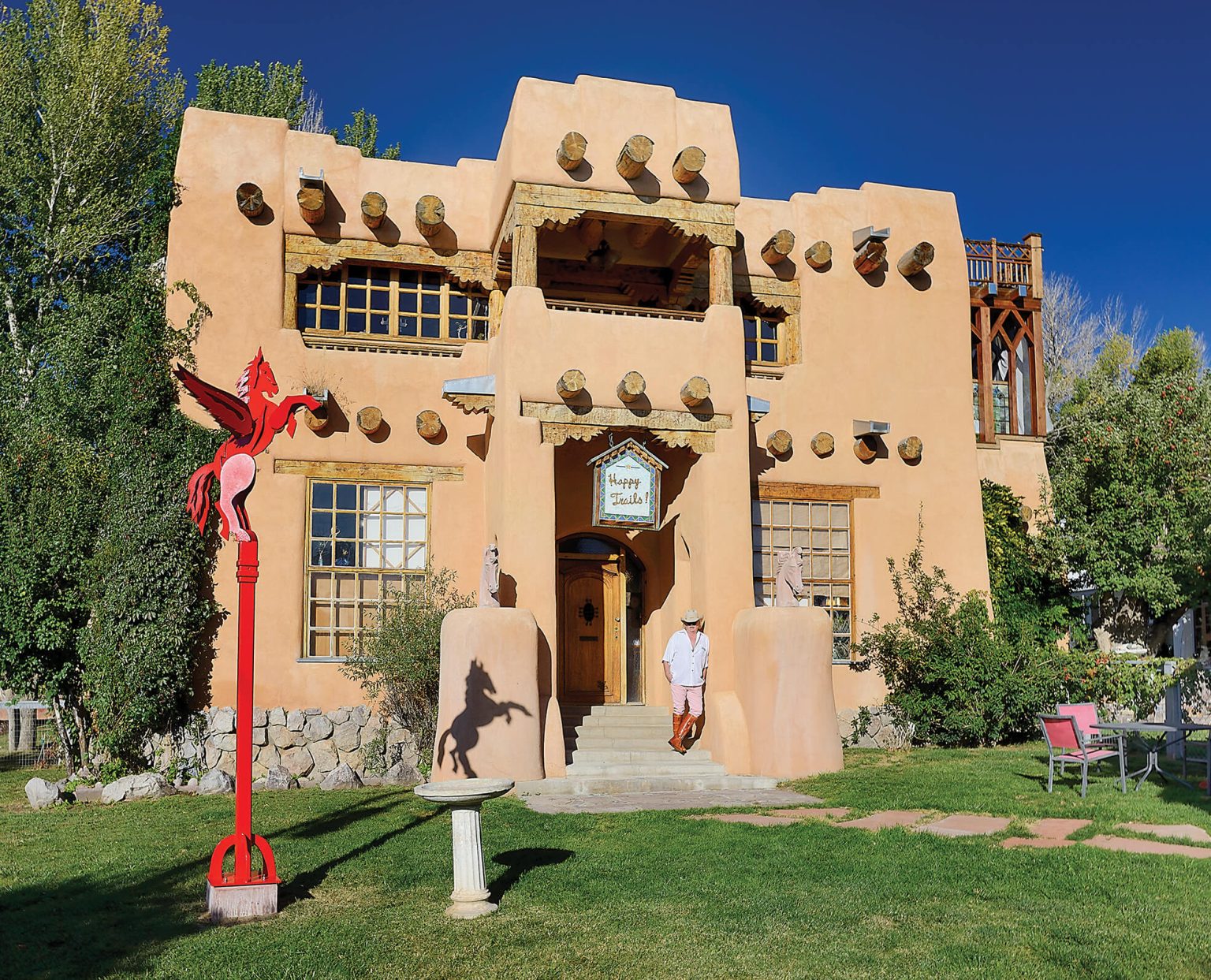 Thom (Tex) Wheeler's Taos studio/home is a riot of colors and textures, anchored, but not subdued, by warm adobe walls and that lovely light particular to northern New Mexico. Wheeler, an eccentric (in the best sense of the word) artist and collector, has designed and built a house as colorful as his own personality, and tour thought this two-story wonder includes a fascination story about almost every piece of art and furniture: a wire couch that came from a French insane asylum, the doorbell that was once a training bell for boxing matches at Madison Square Garden, the newel post from Galveston that leads to his rooftop parapet. No wonder Thom Wheeler's house is called the "newest historical house in Taos."
Wheeler came to Taos from Houston in 1985 and soon after began building his dream house. The bottom floor, which you enter through doors thrown wide open, even in the winter, is Wheeler's gallery where he displays and sells his paintings, sculptures, and "wall jewelry." Lofty ceilings feature enormous timbers, which were hauled by mule from nearby Wheeler Peak after a fire. A quartet of mounted deer heads stand sentinel over the room which is warmed by the steady flow emanating from the west wall's giant fireplace.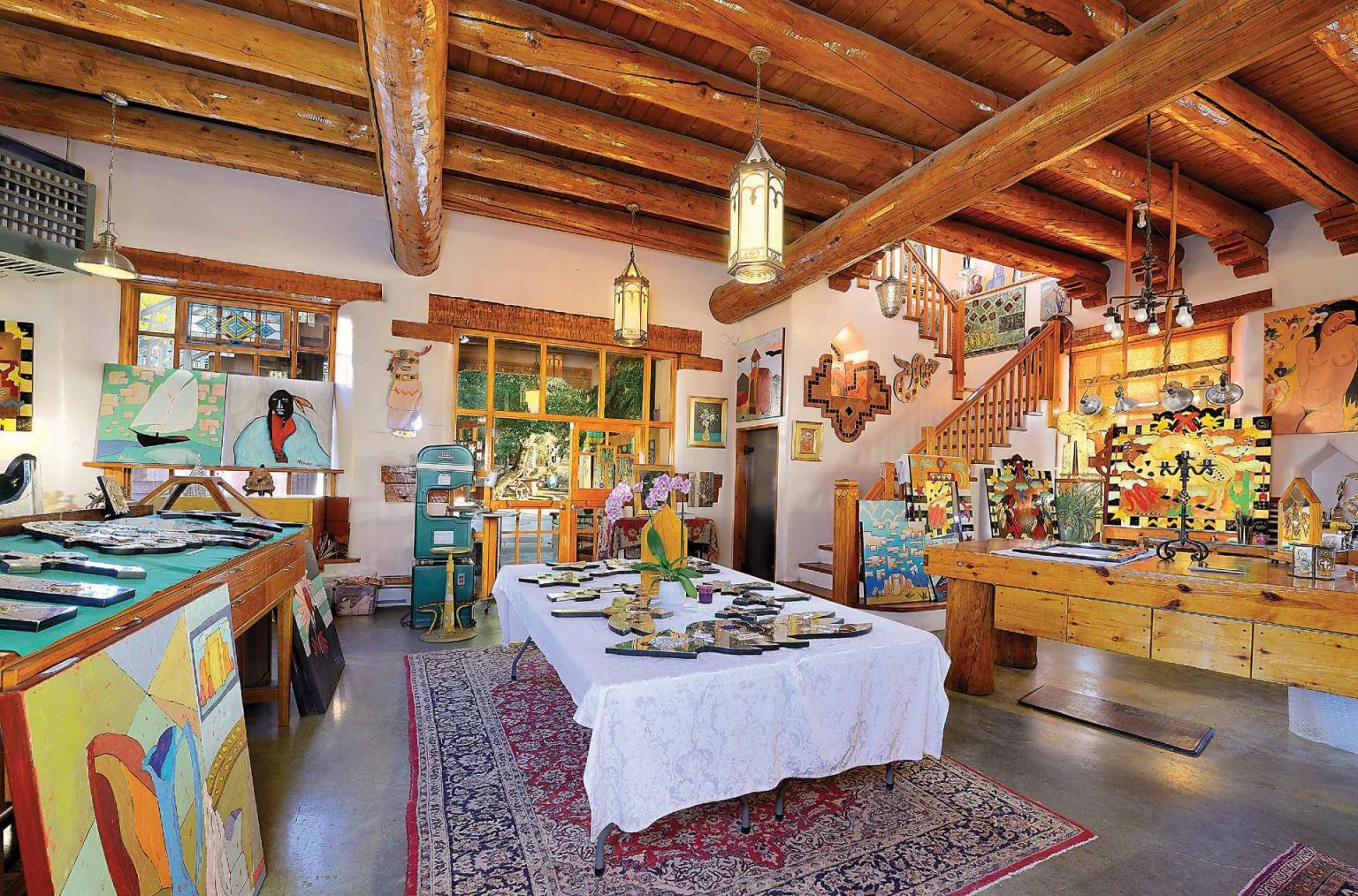 Wide stairs lead to Wheeler's second-story living quarters: an open-plan living, dining, and kitchen area pulsing with tile work reminiscent of a restrained Gaudi. Especially striking is the light filtering through two stained glass winders in the kitchen. "Those windows came from a Presbyterian church in Mexica, Texas," Wheeler says, smiling. "I bought them in college, and they've leaned every window sill I ever had, in every apartment I ever rented--until now."
Like many of the pieces he's collected over the years, these windows look perfectly right in this house. The same goes for the stately Doric columns that lead from the master bedroom into the bathroom. Wheeler salvaged them from a funeral home in Houston. Topped by art deco molding, the columns are bizarrely wonderful and make a dramatic entry into the hushed tiled vestibule of a bathroom.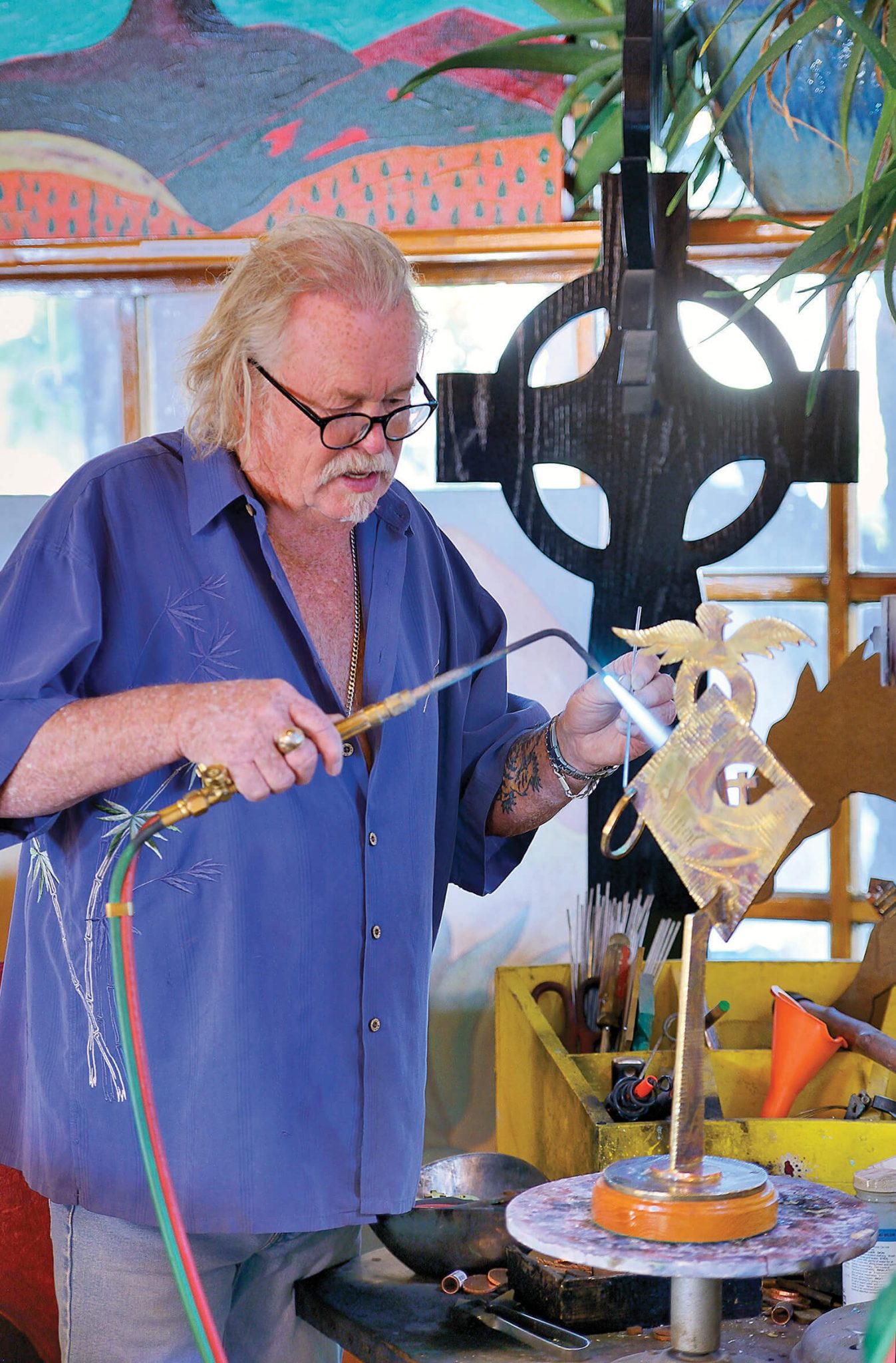 In warm weather, the grounds surrounding Wheeler's home become another suite of rooms. Jade green grass sweeps up to the acequia that runs behind his house. In turn, the acequia helps water his garden, where he grows snow peas, peppers, tomatoes, a variety of herbs, and his many rose bushes, which have made his home a favorite stop on to annual Taos Garden Tour.
But the real star of the show is the fountain that Wheeler built two years ago (1999). No simple hole in the ground, this fountain required the removal of 11 dump trucks' worth of dirt and claims inspiration from the San Antonio River Walk. This multi-leveled work of art, pieced together with native stone, is a sure gathering spot on hot summer days; a nearby fire pit ensure that guest say on into the cool of evening.